[Deutsche Version weiter unten]
Today I've uploaded a part of two master tapes.
It shows a few seconds of episode #915 & #917.
In the first we see Al sitting in the tree and in the second we see the actors and Michael G. Moye – presumably after the episode was taken.
===================================
Zwei kleine Ausschnitte aus einem Mastertape von den Episoden #915 & #917.
Im ersten sehen Al im Baum sitzen und im 2. die Schauspieler und Michael G. Moye – vermutlich nach dem die Folge im Kasten war.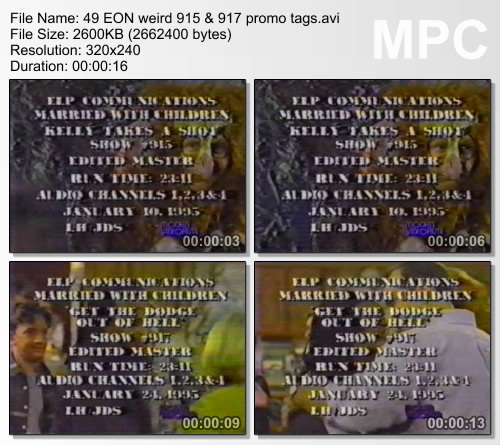 3 Comments »
Thanx! Where did you get that?

Comment by ARMAN — 1/6/2007 @ 1:02 am

He got them from me, probably

Comment by marriedaniac — 1/8/2007 @ 12:18 pm

So the question is; where did you get it from

Comment by site admin — 1/8/2007 @ 12:28 pm
RSS feed for comments on this post. TrackBack URI
Leave a comment
You must be logged in to post a comment.