[english Version below]
Die 9. Staffel von "Eine schrecklich nette Familie" wird am 20.02.2007 veröffentlicht.
Lt. ersten Beschreibungen wird es diesmal auch ein paar – wohlverdiente, und land erwartete – Extras geben (vielleicht hat ja das Geraunze der Bundy-Fans geholfen).
Das Beste von den Bundys
Ein schrecklich netter Rückblick
einige Filmszenen, die bisher nicht in der deutschen Sprache veröffentlicht wurden
Gerade auf den letzten Punkt bin ich doch sehr gespannt, da ich nicht wirklich wüsste was in dt. Sprache bisher nicht veröffentlich wurde.
==============
English Version:
Season 9 (RC 2) will be released in Germany/Austria on the 20-02-2007.
According to some DVD-Shops Sony has put this time some extras on the DVDs.
The Best-of Bundys
"My favorite Married…"
some scences never shown on german TV (I can't imagine what this could be)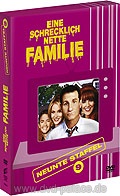 4 Comments »
RSS feed for comments on this post. TrackBack URI
Leave a comment
You must be logged in to post a comment.