Only a short video of the month for March.
Promise that I'll upload some more stuff in April.
Christina Applegate in "the greatest 100 teen stars".
Shown at VH1 in February 2006.
Size: 21 MB
Quality: Poor – I captured it with my DigiCam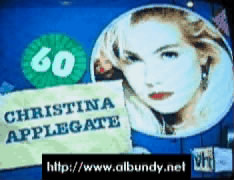 1 Comment »
RSS feed for comments on this post. TrackBack URI
Leave a comment
You must be logged in to post a comment.