This month:
Ed O'Neill at 2WBBM Chicago
Runtime: ~12 minutes
Size: 26 MB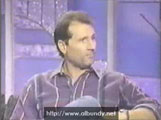 http://yatuc.com/cp
David Faustino with Buck in "Prime Time Pets"
Runtime: 1,30 minutes
Size: 8,8 MB
1 Comment »
Thank you!

Comment by kzu — 11/2/2005 @ 9:18 am
RSS feed for comments on this post. TrackBack URI
Leave a comment
You must be logged in to post a comment.